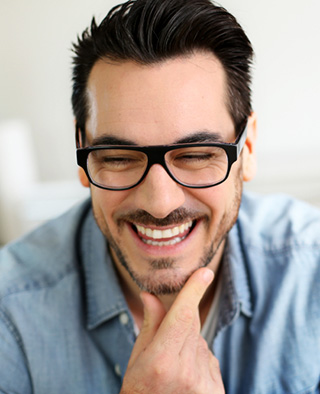 Elizabethtown Dental Bridge and Crown Expertise
Dental crowns (or caps) are dental restorations that are placed over a tooth when conservative restorations are insufficient to restore form and function. A dental bridge serves to replace a missing tooth or teeth. One type of dental bridge consists of dental crowns placed on either side of the missing tooth to connect the replacement tooth or teeth to them. Another type of dental bridge consists of the replacement tooth attached to the adjacent teeth with wing-like appendages. Bridges can also be supported by dental implants. Dental crowns and bridges can be made entirely of tooth-colored material, metal, or a combination to provide optimal aesthetics. Some metal-free dental crowns and bridges incorporate stress-bearing materials to enhance their strength and wear-resistance.
Is A Dental Crown Right For Me?
Dental crowns address aesthetic needs, restore tooth function, and enhance the overall health of your mouth. In cases where teeth have large broken down fillings, a dental crown can protect and preserve the remaining natural tooth. To enhance your smile a metal-free, tooth colored dental crown can also replace an older metal/porcelain dental crown. Following root canal therapy, a dental crown is typically placed over the remaining tooth structure to preserve aesthetic and tooth function.
Is A Dental Bridge Right For Me?
In cases where teeth are missing, a dental bridge prevents the remaining natural teeth from shifting so that dental health and facial aesthetics are not compromised. Dental bridges may also provide a permanent, non-removable alternative to removable partial or full dentures. Whether supported by natural teeth or implants, A dental bridge can offer life-like aesthetics and stable chewing surfaces. The dental bridge can be easily maintained by brushing with modified brushing and flossing.
CEREC Crowns – now at Elizabethtown Dental.
We have invested in advanced technology and computerized equipment which allows us to design and mill your restorations right here in our office. In some cases, that means we can make your dental crowns and onlays in just one visit. We are always looking for ways to provide the best possible results for you and the CEREC technology gives you both quality and convenience.
Call our Elizabethtown office today to learn more about dental crowns and bridges. Or fill out the form at the right of this page and we will contact you as soon as possible.