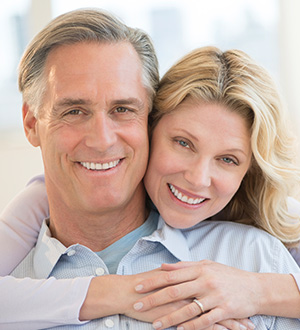 Elizabethtown Implant Dentistry
Dental implants enable dentists to create healthy, attractive smiles in an innovative way. Used to replace one or more missing teeth, implant dentistry is another alternative to conventional bridges and dentures. In essence, dental implants act and look like natural teeth. And, because they maintain bone mass, dental implants can help prevent additional tooth loss as well as the sunken facial appearance associated with missing teeth. A dental implant restoration consists of a bio-compatible titanium screw and post topped by a dental crown, bridge or denture.
The dental implant is surgically placed into the jawbone where it replaces the natural tooth root. In a few months, the dental implant securely attaches to the bone (called "osseointegration"), allowing it to withstand biting and chewing forces just like a healthy, natural tooth.
Are Dental Implants Right For Me?
The most common indications for implant dentistry are:
Replacement of one or more missing teeth.
Support of a non-removable "bridge" to replace multiple teeth.
Support of a removable full or partial denture.
Patients who successfully pass a screening and evaluation can be considered as candidates for receiving dental implants.
The primary limiting factor inherent in implant dentistry is the amount of bone available to receive and support dental implants. If it's determined that a patient does not have enough bone to support a dental implant restoration, bone grafting procedures may be considered. Heavy smoking and some medical conditions may preclude the use of dental implants.
To learn more about dental implants, please call your Elizabethtown, PA hometown implant dentistry office – White Family Dental Associates. Or fill out the form at the right of this page and we will quickly contact you.