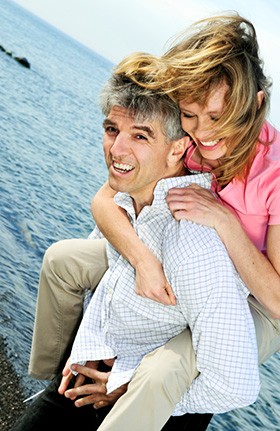 Elizabethtown Dental Veneers
Porcelain veneers are a thin, semi-translucent laminate permanently bonded to your teeth. While they're not suitable for every patient, dental veneers are the most aesthetic alternative for a variety of dental conditions involving the front teeth, including:
Diastemas (spaces between teeth)
Broken or chipped teeth
Unsightly, stained, or washed-out fillings
Permanently stained or discolored teeth that can't be bleached
Crooked teeth
Advantages and Benefits of Porcelain Veneer Placement
There are many benefits and advantages to having porcelain veneers placed on your front teeth:
The procedure takes only two appointments
A conservative amount of tooth structure is removed during the porcelain veneer procedure
Porcelain veneers are the most biocompatible material you can use next to the gingiva
A healthy "natural" look is achieved; in fact, porcelain veneers are the most aesthetic restoration in dentistry.
How are Dental Veneers different from Tooth Bonding or Dental Crowns?
Bonding is a resin filling material that was used for several years to cover the front surface of teeth. Today, we generally use bonding only to fill in small surfaces or cavities and repair chips in teeth. A full dental crown is like a cap placed over the tooth when a tooth has had root canal treatment, or when a substantial amount of the entire tooth structure (enamel) has been lost.
To learn more about the porcelain veneer procedure or to learn if porcelain veneers are right for you, call your hometown specialist in dental veneers – White Family Dental Associates in Elizabethtown. Or fill out the form at the right of this page and we will contact you as soon as possible.